Jeffrey Haymond, PhD
Dean, Robert W. Plaster School of Business; Professor of Economics
---
Biography
Dr. Jeff Haymond joined Cedarville University faculty in 2010 after a 29 year career in the United States Air Force. While in the Air Force, Colonel Haymond had assignments in engineering, satellite control and launch operations. He also taught at the United States Air Force Academy and was an Air Force Fellow at The Brookings Institution. His research has been published in the Quarterly Journal of Austrian Economics, Public Choice, the Journal of Public Choice and Public Finance, and Strategic Studies Quarterly. His current research interests include economics and religion, as well as monetary theory.
Dr. Haymond has a passion for thinking Biblically and economically. He considers the integration of a Christian worldview in the broader society the most positive social policy possible. This passion brought him to Cedarville University, where he hopes to help the next generation of Christian leaders develop the ability to think critically with a distinctly Christian worldview.
Education and Credentials
Ph.D., George Mason University, Economics
MA, University of Denver, Economics
MS, University of Tennessee, Mechanical Engineering
BS, United States Air Force Academy, Aeronautical Engineering
Air War College
Certificate of Public Leadership, The Brookings Institution
Scholarly Works
No Free Lunch: Economics for a Fallen World (Second Edition, Revised) (Jeffrey E. Haymond) Faculty Books (2018)
Class Action Rent Extraction: Theory and Evidence of Legal Extortion (Jeffrey E. Haymond) Business Administration Faculty Publications (2010)
The Sanctification Process and Stewardship in Free Markets (Jeffrey E. Haymond) Journal of Markets & Morality (2017)
Common Grace and the Competitive Market System (Jeffrey E. Haymond) Journal of Markets and Morality (2016)
Christianity and the Supply Side (Jeffrey E. Haymond) Association of Private Enterprise Education (2017)
View a listing of scholarly works in the Cedarville University Digital Commons »
Interests
His wonderful family, including his wife Jennifer and three kids
He is an old car nut with the nickname "restifier" because he enjoys the combination of restoring and modifying older classics
His car interests are increasingly interesting him in learning metal fabrication
He enjoys working out at the gym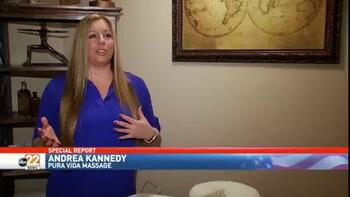 Are we in a Recession?
Dr. Jeff Haymond discusses the current state of the economy and answers questions about the possibility of a recession.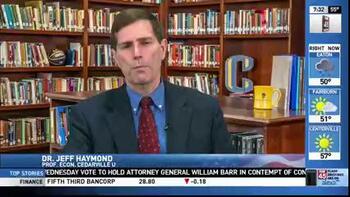 USA-China War
Dr. Jeff Haymond discusses trade between the U.S. and China.