Daryl Smith
Daryl Smith, PhD
Associate Professor of Management
---
Biography
Dr. Daryl Smith joined the Cedarville University faculty in 2018. He previously served on the business faculty at Cincinnati Christian University as well as Mount St. Joseph University. Much of his professional life was devoted to a 24-year career in the United States Air Force. While in the Air Force, Lt. Col. Smith was an instructor and research pilot with more than 2,000 flying hours in several airframes. Dr. Smith served two tours on the faculty of the United States Air Force Academy, finishing his career as the Deputy Department Head for Academics.
Dr. Smith's research in human factors and aviation issues, turnover, communication, and leadership has been published in several scholarly journals. He is the author of a book on aircrew safety titled Controlling Pilot Error: Controlled Flight into Terrain. His second book focuses on the role of leadership and business in baseball: Making the Big Red Machine: Bob Howsam and the Cincinnati Reds of the 1970s. He is a popular speaker on leadership and the Big Red Machine.
Dr. Smith has a passion for teaching and aviation. His online educational website, DoctorAviaton.com, teaches lifelong learners about the history and physics behind flight, as well as the four areas of aviation world: aircraft maintenance, airfield operations, air traffic control, and piloting.
Education and Credentials
Ph.D. in Business, University of Washington
M.S. in Human Factors and Systems Engineering, Wright State University
B.S. in Behavioral Sciences (Human Factors Engineering), United States Air Force Academy, Behavioral Sciences
Air War College
Scholarly Works
The Effect of Transactive Memory and Collective Efficacy on Aircrew Performance (Daryl R. Smith) Faculty Dissertations (1999)
Aviation Spatial Orientation in Relationship to Head Position, Altitude Interpretation, and Control (Daryl R. Smith) Business Administration Faculty Publications (1994)
Making the Big Red Machine: Bob Howsam and the Cincinnati Reds of the 1970s (Daryl R. Smith) Faculty Books (2009)
The Relative Strength of Job Attitudes and Job Embeddedness in Predicting Turnover in a U.S. Military Academy (B. C. Holtom, Daryl R. Smith, D. R. Lindsay, et al.) Military Psychology (2014)
Enhancing Precision in the Prediction of Voluntary Turnover and Retirement (Daryl R. Smith, B. C. Holtom and T. R. Mitchell) Journal of Vocational Behavior (2011)
View a listing of scholarly works in the Cedarville University Digital Commons »
Interests
Camping with his family
Serving in his local church
Watching college basketball and football
Biographies
Interviews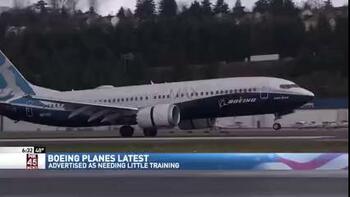 Airplane Training Is Key
Dr. Daryl Smith, veteran Air Force pilot, discusses how important extra training is for new planes after a new Boeing model has been grounded following a series of crashes.