About the M.B.A. in Innovation and Entrepreneurship Concentration offered by the Robert W. Plaster School of Business
Why Study Innovation and Entrepreneurship at Cedarville?
Are you interested in starting or growing a business? Do you want to use your God-given creativity to lead? To keep up with an ever-changing marketplace, you need creative, innovative solutions. An M.B.A. in Innovation and Entrepreneurship can help you expand your opportunities and take your career to the next level.
As part of Cedarville's Plaster School of Business fully online Master of Business Administration program, your M.B.A. in Innovation and Entrepreneurship concentration coursework will explore the intersections of design, innovation, creativity, entrepreneurship, and sustainable business modeling to develop a leadership mindset to solve the complex opportunities in today's demanding marketplace. The concentration is taught in partnership with the nationally ranked leader in innovation education, the International Center for Creativity in Columbus, Ohio.
As with all our M.B.A. programs, you'll study business through a biblical lens that emphasizes:
Excellence in personal standards and discernment
Kingdom influence through serving others
Stewardship of God-given talents
Leadership with a servant's heart
Request Info
Schedule an Appointment
What Sets Cedarville Apart?
Biblical Worldview

All courses are built on the solid foundation of Scripture.

Online and Accelerated

All courses are offered in an online format, 1- and 2-year completion options.

Affordable

Cedarville's M.B.A. is competitively priced with available financial aid.
Program Overview
M.B.A. in Innovation and Entrepreneurship Program Highlights
Accredited — Cedarville's Christian M.B.A. is accredited by the Accreditation Council for Business Schools & Programs (ACBSP).
Supportive — Dedicated program adviser ensures support while you pursue your degree and maintain other commitments, and cohort-based approach builds community and network for Christian business professionals.
Flexible — Seven-week terms provide flexibility for working professionals, and part-time and full-time options are available.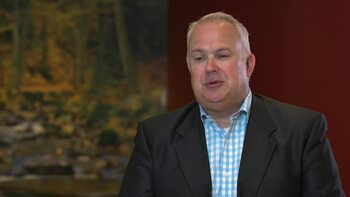 M.B.A. Innovation and Entrepreneurship Concentration
Cedarville's M.B.A. with a concentration in innovation and entrepreneurship will prepare business leaders who will meet the unique challenges of today's marketplace with bold, creative solutions.
M.B.A. FAQs
Get answers to the most common questions prospective graduate students ask when considering an M.B.A. program.
What Can You Do With an M.B.A. in Innovation and Entrepreneurship?
With an M.B.A. in Innovation and Entrepreneurship concentration, you can:
Identify, launch, and grow new ventures and opportunities
Take on innovation and creativity roles in existing ventures
Lead innovation efforts in your corporate, academic, public service, or ministry leadership settings
Opportunities to Learn Outside the Classroom
Your entrepreneurship M.B.A. courses are designed for the online environment but include hands-on case studies, projects chosen by the student, simulation games, and personal development.
Stewarding Your Gifts With a Graduate Degree
Listen as Cedarville's president, Dr. Thomas White, discusses how our graduate programs can help you steward your God-given talents for His glory.
Admission, Costs and Aid, Start Dates
Costs and Financial Aid — Your decision to pursue quality, Christian graduate education represents a valuable investment in your career and professional development. To assure your degree is also affordable, Cedarville graduate programs are competitively priced and can be supplemented with a variety of financial aid.
M.B.A. Cost Information
Program Start Dates — Applications are accepted throughout the year, and you can enroll and begin classes in August, October, January, March, May, or July.
Program Curriculum
Building on your undergrad degree, you will take core M.B.A. courses and three core Innovation and Entrepreneurship courses to complete the concentration. There is also a 3-credit Bible course, which is waived if you completed a Bible minor as part of your undergraduate work.
You'll develop a strong business foundation through general coursework that applies to any organization:
Accounting for Business Executives
Biblical and Theological Foundations for Graduate Study (may be waived with undergraduate Bible minor or approved alternative)
Capstone Course
Executive Financial Management
Information Technology for Competitive Advantage
Legal/Ethics Course
Managerial Economics
Management and Leadership of Organizations
Quantitative Course
Strategic Marketing Planning
You'll take four Innovation and Entrepreneurship courses, giving you the tools you need to succeed:
Business Modeling and New Venture Creation
Creativity to Entrepreneurship
Design Thinking Principles for Innovation
Emerging Trends and Opportunities for Innovation
You can add an M.B.A. to many of Cedarville's popular majors by using one of our bachelor's-to-master's accelerated completion plans.
Program Format and Related Programs
Cedarville offers both graduate and undergraduate programs, with flexible completion options. You may also want to consider these related programs as you consider the degree or program that is a best fit for you.
From Our Students:
Cedarville's M.B.A. with an innovation and entrepreneurship concentration has opened me up to new ways of thinking, new attitudes, and new aspirations. It has helped me along the path of finding my calling. After 20 years, I have reason to be optimistic about my career.

Mark Kirby, M.B.A. '22
Engineering Consultant
Greater New Orleans, LA, region

Cedarville University's MBA in innovation and entrepreneurship was one of the most fulfilling educational experiences I have had to date. The professors were hands-on and worked with me each step of the process. The program gave me the freedom to be creative and think outside the box, but the structure to thrive. After completing my capstone, I was equipped to pitch my idea to investors and if I chose … I was prepped to start my own business.

Derek Stallard, MBA '22
Learn About Career Services
Program Contacts
Dean, Robert W. Plaster School of Business; Professor of Economics
Assistant Dean, Associate Dean, Robert W. Plaster School of Business - MBA, Bus Admin Graduate Studies; Associate Professor of Information Technology Management
Graduate Enrollment Advisor for Business and Innovation
Contact
Program News
In a culture with ever-changing ideas and agendas, good leadership is becoming more and more important. Cedarville University seeks to equip biblically faithful leaders with its new graduate certificate in leadership.

College Consensus, a national research organization that combines the latest college rankings with thousands of student review scores, named Cedarville University No. 2 in the country among Christian universities for having the best online programs.