About the Christian MSN FNP Degree
Why Pursue a Family Nurse Practitioner Degree at Cedarville?
Are you ready to take the next step in your career as an advanced practice nurse who leads with excellence and serves with Christian compassion?
Cedarville's Christian MSN Family Nurse Practitioner program will prepare you to provide primary care across the human lifespan and use nursing as a ministry for Jesus Christ. Our affordable, accredited, and online nurse practitioner program includes assessment, diagnosis, management, and treatment of common acute and chronic health problems, health promotion, client and family education, and use of evidence-based practice for meeting the needs for primary care and prevention. The biblically integrated coursework will influence the care you provide as an advanced practice nurse.
Request Info
Schedule an Appointment
$3,000 Scholarship Offer
A limited number of $3,000 scholarships are now available to new graduate nursing students with financial need. Apply now to see if you qualify!
Top 5 in Ohio
U.S. News & World Report listed Cedarville University's online graduate nursing program in the top 100 programs nationally and top 5 in Ohio.
What Sets Cedarville Apart?
Biblical Worldview

All courses are built on the solid foundation of Scripture.

Advanced Practice

Cedarville's M.S.N. will equip you with the training and skills you need to serve as an advanced practice nurse.

Online

All M.S.N. courses are offered in an online format, with flexible part-time and full-time completion options.
Program Overview
MSN FNP Program Highlights
Convenient — All MSN. courses are offered in an online format. Four required on-campus experiences include a Clinical Orientation prior to starting the FNP clinical specialty courses and during each semester of the clinical specialty courses.
Flexible — Part-time and full-time completion options.
Outstanding Christian Faculty — You will be taught and mentored by faculty members who have both high academic credentials and clinical experience. They are passionate about helping you use nursing as a ministry.
Affordable — Cedarville's MSN. FNP program has the lowest cost of all graduate nurse practitioner programs in the state of Ohio. Financial aid, including scholarships, is also available.
What Can You Do With an MSN FNP Degree?
The Family Nurse Practitioner area of focus prepares you as an advanced practice nurse to provide primary care across the human lifespan. As a graduate of the MSN FNP program, you will be qualified to seek national certification and employment as a family nurse practitioner.
Opportunities to Learn Outside the Classroom
You will complete 600 hours of direct care clinical experience in various aspects of primary healthcare across the lifespan.
You will participate in four required 2–3-day on-campus experiences, which include face-to-face instruction of course materials and simulation experiences using our state-of-the-art, high- and low-fidelity simulators. As part of these simulations, faculty will guide you through clinical decision-making, gaining advanced practice nursing skills and competencies.
Admission, Costs and Aid, Start Dates
Admission Requirements — The first step in your graduate school journey at Cedarville is to apply for admission.
MSN Admission Requirements
Costs and Financial Aid — Your decision to pursue quality, Christian graduate education represents a valuable investment in your career and professional development. To assure your degree is also affordable, Cedarville graduate programs are competitively priced and can be supplemented with a variety of financial aid.
MSN FNP Cost Information
Program Start Dates — You can enroll and begin classes in August, January, or May.
Program Curriculum
You will complete 12 graduate nursing core semester hours, 9 direct care core semester hours, 20 semester hours of FNP specialty courses, and 3 semester hours of a graduate-level Bible course (if this Bible requirement was not previously satisfied with an undergraduate Bible minor or approved alternative).
See curriculum guides for further description of MSN part-time and full-time completion options.
Sample courses:
Applied Scholarship in Practice for FNP

Biblical Foundations of Advanced Nursing Practice
Program Format and Related Programs
Cedarville offers both graduate and undergraduate programs, with flexible completion options. You may also want to consider these related programs as you consider the degree or program that is a best fit for you.
From Our Director:
Cedarville University's graduate nursing programs and curriculum prepare graduate students for advanced nursing practice roles and to use nursing as a ministry for Jesus Christ. We maintain academic excellence through diverse expertise of the faculty and low student-faculty ratios.

Kim Higginbotham, DNP, APRN, CPNP-PC, PMHS Assistant Dean, Director of Graduate Nursing Programs, PNP Area of Focus Coordinator
Learn About Career Services
Related Videos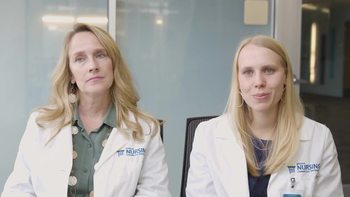 Mother and Daughter Share M.S.N. Experience
A mother and daughter share how Cedarville's M.S.N. program is equipping them for their future, and it's even better because they're doing it together!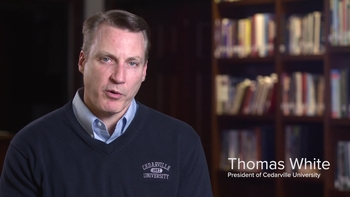 Stewarding Your Gifts With a Graduate Degree
Listen as Cedarville's president, Dr. Thomas White, discusses how our graduate programs can help you steward your God-given talents for His glory.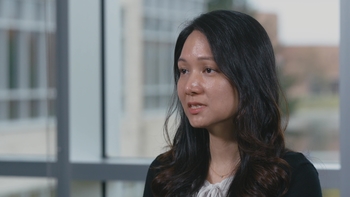 Family Nurse Practitioner Program
Listen as an M.S.N. FNP student explains how Cedarville's supportive faculty is preparing her to become an advanced practice nurse.
Program Contacts
Assistant Dean, Director of Graduate Nursing Programs, PNP Area of Focus Coordinator
Coordinator of the Family Nurse Practitioner (FNP) focus area, Associate Professor of Nursing
Aimee Wallis
Graduate Enrollment Advisor
Program News
When it comes to offering rigorous, high-end academic programs in health care disciplines, Cedarville University is rapidly establishing a reputation for being a leader.

Cedarville receives best ranking among all Christian universities nationally and is recognized as a best school for flexibility.