Derrick Green
Derrick Green, MA
Chair, Assistant Professor of Communication
---
Biography
Derrick Green graduated from Cedarville College in 1997 with a BA in Communication Studies with a specialization in Organizational Communication. While attending CU, he competed for Cedarville's Individual Events forensic team. From 1997-1999, Derrick attended Miami University as a Graduate Teaching Assistant in speech communication and assisted in coaching Miami's individual events forensic team. While teaching at Kansas State University from 1999-2002, he worked as assistant Individual Events coach. He has worked extensively with Individual Events Forensics teams at all three schools. Joining the faculty of Cedarville University in the Fall of 2002, he teaches Fundamentals of Speech and also functions as assistant coach for the Individual Events Speech Team. Derrick is single and lives in the town of Cedarville.
Scholarly Works
Student Manual: Fundamentals of Speech (Margaret S. Wheeler, Derrick L. Green and Deborah L. Haffey) Communication Faculty Publications (2005)
Cedarville University Multicultural Learning Community (Derrick L. Green) Ohio Foundation of Independent Colleges Spring Diversity Forum (2005)
Cedarville University Multicultural Learning Community (Derrick L. Green) SOCHE Diversity and Multicultural Competence in Higher Education Conference (2005)
Perceptions of Flirting Based on the Initiator, Sex of the Observer, and the Use of Nonverbal or Verbal Cues (D. D. Henningsen, G. Tuebner, R. Reinke, et al.) Central/Southern States Communication Association Conference (1999)
Engaging in Healthy Discussion (Derrick L. Green) Cedarville University Center for Teaching and Learning Hot Topics Session (2010)
View a listing of scholarly works in the Cedarville University Digital Commons »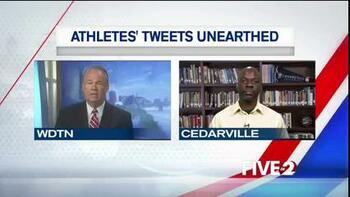 Be Careful What you Tweet
Professor Green discusses the offensive tweets from MLB players and social media ethics.