Seth Hamman
Seth Hamman, Ph.D.
Director, Associate Professor of Cyber Operations and Computer Science
---
Biography
Dr. Hamman joined the faculty at Cedarville in 2012. He brings real-world experience to the classroom from having worked in the tech industry, both as an employee of a startup dotcom and as a consultant. During his first four years at Cedarville, he earned his Ph.D. while studying cybersecurity at the Air Force's graduate school, the Air Force Institute of Technology, located at nearby Wright-Patterson Air Force Base. As a researcher he is interested in helping to shape the young and growing discipline of cybersecurity education and in integrating the Christian faith and computer science.
Media Expertise
Education and Credentials
Ph.D. in Computer Science, The Air Force Institute of Technology
M.S. in Computer Science, Yale University
B.A. in Religion, Duke University
Scholarly Works
Improving the Cybersecurity of Cyber-Physical Systems Through Behavioral Game Theory and Model Checking in Practice and in Education (Seth T. Hamman) Theses and Dissertations (2016)
Applying Behavioral Game Theory to Cyber-Physical Systems Protection Planning (Seth Hamman, K. Hopkinson and Lindsey McCarty) Engineering and Computer Science Faculty Publications (2017)
A Model Checking Approach to Testing the Reliability of Smart Grid Protection Systems (Seth Hamman, Kenneth M. Hopkinson and Jose E. Fadul) IEEE Transactions on Power Delivery (2017)
Teaching Game Theory to Improve Adversarial Thinking in Cybersecurity Students (Seth Hamman, Kenneth M. Hopkinson, Ruth Markham, et al.) IEEE Transactions on Education (2017)
Cybersecurity Curriculum Development Initiatives (Seth Hamman and Kenneth M. Hopkinson) National Initiative for Cybersecurity Education Conference (2017)
View a listing of scholarly works in the Cedarville University Digital Commons »
Interests
Playing golf and other sports
Reading
Listening to Christian Radio
Interviews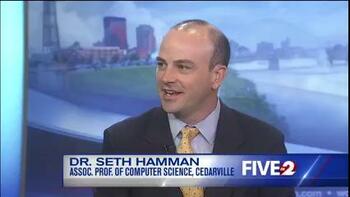 National Center of Academic Excellence
The National Security Agency (NSA) has named Cedarville University a National Center of Academic Excellence in Cyber Operations. This is a designation which only 20 other schools in the United States currently have.