Training
Complete the IRB training by reviewing the three videos, completing the CITI training modules, then emailing your CITI certificate to the irb@cedarville.edu.
Cedarville IRB Training Videos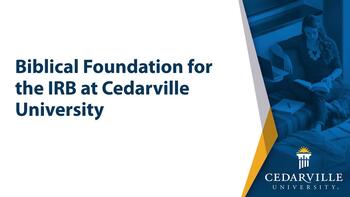 IRB Training: Video 1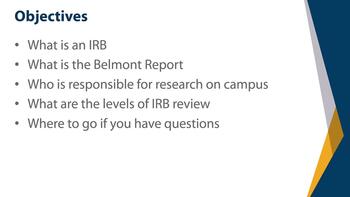 IRB Training: Video 2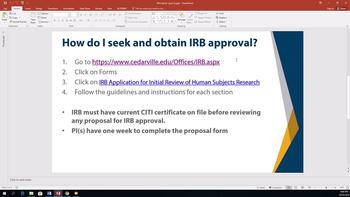 IRB Training: Video 3
CITI Training
Cedarville University, the Institutional Review Board (IRB) and individual investigators share a collective responsibility to ensure that research involving human subjects is guided by the highest ethical standards and is conducted in compliance with federal, state and university regulations governing such research. To assist the IRB and investigators in meeting these requirements, Cedarville University purchased an institutional subscription to the Collaborative Institutional Training Initiative (CITI), a resource of online training modules that provides investigators convenient access to comprehensive and regularly updated human subjects research guidance. Each of the two curriculums offered through CITI contains general IRB information in addition to information more specific to the type of research: Biomedical or Social & Behavioral. The CITI human subjects training modules can be completed in multiple log-on sessions and total completion time is approximately 2-3 hours. A Course Completion Report will be generated when all required quizzes are completed with a total score of at least 80%. For more information, visit Human Subjects CITI Training.