Be Equipped to Provide Innovative Healthcare and Spiritual Hope.
Step into an education that focuses intently on preparing you for the ever-changing landscape of pharmacy. More than just dispensing medications, you'll be equipped to work as part of a medical team to provide optimal health outcomes and discover innovative solutions to today's healthcare problems. You'll be challenged to envision new ways to serve those in need, lavishing the love of Christ on our fallen world.
Explore the School of Pharmacy
School of Pharmacy Quick Facts
81%

5 Year Residency Match Rate (both PGY1 and PGY2)

73%

2023 First-Time NAPLEX Pass Rate
All new students are assigned a faculty advisor to help you make the most of your 1,000 days.
I wanted to attend a pharmacy school with a Christian curriculum to understand how to represent Christ well as a pharmacist. I cherish my training here at Cedarville because I believe it is developing me into a skilled healthcare professional and a better ambassador for Christ.

Arrah Atem-Tambe '21, PharmD

I chose Cedarville University for its strong academics, caring faculty, and Christian community. The professors in the School of Pharmacy gave me the academic foundation I needed to succeed as a pharmacist, and they also helped me see how the Lord could use my career to further His kingdom. My time at Cedarville taught me how to see my entire life, even my job, with an eternal perspective.

Megan McNicol, PharmD '17 | Advanced Patient Care Pharmacist | Nationwide Children's Hospital
Studying Pharmacy From a Distinctly Biblical Worldview
Without an intentional pursuit to know the Creator, God's creation can never be fully understood. The intricate nature of God's design demands our reverence and worship as we learn about the human body and our abilities to provide patient care. At Cedarville, your study of pharmacy will be informed by biblical truth, and you will learn what it means to provide both physical treatment and spiritual hope to patients made in the image of God.
Through medical missions and countless other opportunities to serve, you will gain experience using your passion for pharmacy as a platform to share the Gospel. The first-rate medical training that you receive will be coupled with a commitment to glorify God, preparing you to be a capable professional and a light for Christ wherever He takes you.
"For we are God's handiwork, created in Christ Jesus to do good works, which God prepared in advance for us to do."
— Ephesians 2:10
Academic Programs
Prepare to be a pharmacy professional.
Throughout your pharmacy studies at Cedarville, you will gain extensive professional knowledge from skilled and experienced faculty, who are intentional about the application of biblical truth in the classroom. Discussions on medical ethics, the sanctity of life, origins, and the balanced integration of faith and learning will be informed by Scripture. As your knowledge multiplies, you will have countless opportunities to apply your training to the real world, impacting others with the love and care that Christ first gave to us.
Undergraduate Program
Graduate Programs
"The first licensed pharmacist set up shop in the French Quarter. Louis Dufilho Jr. of New Orleans became American's first licensed pharmacist in the early 1800s. Prior to then, you did not need a license to become a pharmacist."
— PharmacyTimes.com
Becoming a Pharmacist
Choose your admission path.
Regardless of your timeline, Cedarville has an avenue for admission into the pharmacy program that is right for you.
Graduating high school students may choose our direct-entry Pharmaceutical Sciences/Prepharmacy major, which leads to the PharmD and can be completed in six or seven years. Students transferring from another accredited university have options when it comes to completing required prerequisites for the program. Transfer students and applicants with bachelor's degrees who have completed the prerequisites will enter the four-year Doctor of Pharmacy program.
Early Assurance Pharmacy Path – 2+4 or 3+4

Gain early admission from high school into the PharmD program and earn your degree in six or seven years.

Early Assurance Path

Professional Pharmacy Path

Gain admission to the 4-year, PharmD program after completing your pharmacy prerequisites at another accredited university.

Professional Path

Transfer Prepharmacy Path

Transfer to Cedarville University from another accredited university to complete your pharmacy prerequisites.

Transfer Path
"You, my brothers and sisters, were called to be free. But do not use your freedom to indulge the flesh; rather, serve one another humbly in love."
— Galations 5:13
Research Opportunities
Dive into your field and make an impact for the glory of God.
There are a wealth of possibilities to pursue with your research. In completing your three-year research project, you will choose to focus on pharmaceutical sciences, pharmacy practice, or social and administrative science, allowing you to align your work with your individual interests. Working with faculty on research projects is another opportunity to further your ambitions. Research initiatives will culminate in a presentation of your project during your third year of the program. Learn more about the opportunities you have to investigate the world of pharmacy.
"Today, pharmacy and medicine are seen as two distinct specialties, largely as a result of an edict presented by Frederick II of Hohenstaufen in 1240 A.D. Frederick II was Emperor of Germany and King of Sicily. This completely separated the responsibilities of doctors and pharmacists and put professional regulations in place."
— PharmacyTimes.com
Clinical and Experiential Programs
Explore an abundance of applications to the real world.
Throughout your four years of study in the pharmacy program, you will have many opportunities for hands-on learning experiences. Each year, you will be challenged to apply what you are learning. During your first year, you will receive training in a community pharmacy, followed the next year by a hospital pharmacy. Your third year will present the unique opportunity to exhibit servant leadership, challenging you to engage in cross-cultural missions and be a light for Christ to those with some of the deepest physical needs. Finally, in your fourth year, your training will come together to prepare you for Advanced Practice Pharmacy Experience (APPE) rotations.
"Water, air, and cleanness are the chief articles in my pharmacy."
— Napoleon Bonaparte
Go Deeper in Pharmacy
Center for Pharmacy Innovation
Seek out new solutions with wisdom as healthcare evolves.
New challenges in healthcare are constantly arising. How do we respond to these with innovative, critical thinking and a biblical worldview? The Center for Pharmacy Innovation seeks to address this question, equipping students and pharmacists to develop an entrepreneurial mindset and find solutions to new issues. Through innovative research and educational initiatives, the Center encourages current and future pharmacists to advance patient care with biblical wisdom.
Missions and Global Impact
Cross-cultural missions is a unique facet of Cedarville's pharmacy program, allowing students the opportunity to find the intersection of their academic passion and their desire to serve the Lord. Through the many missions opportunities available to you, you will gain experience using pharmacy as a platform to deliver the good news of Jesus. Provide physical treatment and spiritual hope to those you are serving, and be equipped to carry these lessons throughout the rest of your life.
Learn More About Pharmacy's Global Impact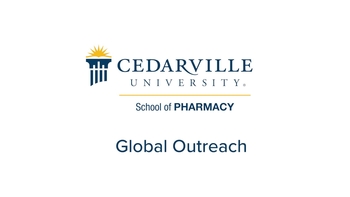 Pharmacy Missions 2022
Students from the School of Pharmacy travel around the world to serve others and spread the Gospel. They are taking what they're learning in classes to meet people's physical needs — but more importantly, they are using pharmacy to share the hope they have in Christ.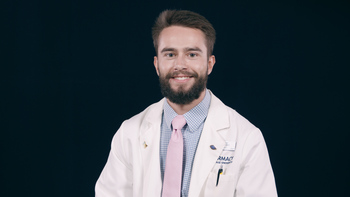 Pharmacy as Part of Medical Missions
A professional pharmacy student shares how he was able to combine his passion for missions and his desire to be a pharmacist as part of a medical missions team in West Africa.
Cedarville Pharmacy in the News
Whether it's researching and developing new treatments, serving refugee communities with medical care, or authoring advanced scientific books, Cedarville's School of Pharmacy is home to many students and faculty members doing great things to influence their world for Christ.
Paid in Full: One Pharmacy Student's Path to Cedarville University
Caroline Abdelmassih experienced a life-changing moment when she learned her college tuition to Cedarville University in Ohio was paid in full by a complete stranger.
Read Article
Healthcare Exploration Day Is a Preview for Prospective Students
Cedarville University is giving prospective students the opportunity to learn of the many careers in health care and its academic programs that will prepare them for meaningful careers during Healthcare Exploration Day on Friday, Sept. 15.
Read Article
Read the Latest Pharmacy Headlines
Hear From Our Students
Get insights from students who have gone before you.
Explore what Cedarville pharmacy students have to say about the program, the opportunities for hands-on learning, and the preparation for residency and a professional career. As you enter into your pharmacy studies at Cedarville, you will be surrounded by a community of students that shares your passion for helping others and being a light for Christ. See what they have to say about their experience.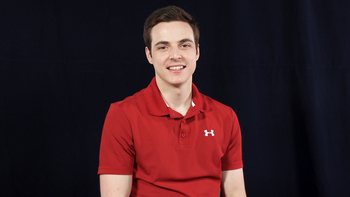 Prepared for a Future in Pharmacy
A recent Doctor of Pharmacy graduate shares how the Cedarville University School of Pharmacy prepared him well for his residency and beyond.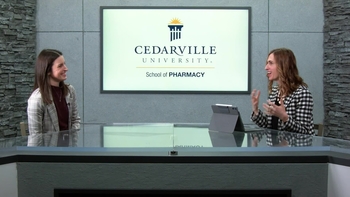 Kalista McGuire: Choosing Pharmacy
Cedarville School of Pharmacy graduate Dr. Kalista McGuire explains how after researching common misconceptions about pharmacy, she chose pharmacy school over medical school, and why she's glad she did. An exciting and dynamic pharmacy career was the right choice for her and her family.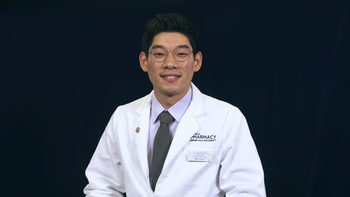 Innovation in Pharmacy
A professional pharmacy student explains how innovative experiences within the School of Pharmacy is helping prepare him for a future career in pharmacy.
Dean – School of Pharmacy
Jeffrey A. Bates, PharmD, BS Pharm, FMPA
Dean, School of Pharmacy; Associate Professor of Pharmacy Practice
"It is an incredible privilege to serve at a school of pharmacy that has world-class faculty, all of whom seek to honor God with their efforts. Our entire team focuses all of their efforts on transformation: locally, globally, and innovatively. Cedarville is different from every other school of pharmacy in that we deliver an exceptional pharmacy education coupled with intentional discipleship — the result of which is a group of graduates who are highly sought-after, team-ready, practice-prepared, missionally-minded, and eternally-focused."
— Jeffrey A. Bates, PharmD, BS Pharm, FMPA
"Wherever the art of Medicine is loved, there is also a love of Humanity."
— Hippocrates