School of Pharmacy
Pharmacy Excellence with Christ-like Compassion
Whether you're interested in prepharmacy or ready to earn your Doctor of Pharmacy degree, you'll be equipped to serve as an exceptional pharmacist with Christlike compassion.
You'll graduate Fully Prepared. For His Purpose.
School of Pharmacy Hooding Ceremony 2022
Watch as we celebrated and recognized our School of Pharmacy graduates for their accomplishments on May 6, 2022.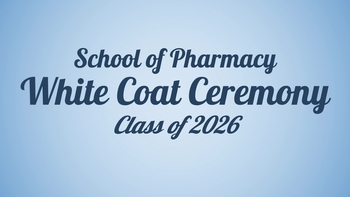 Pharmacy White Coat Ceremony 2022
The School of Pharmacy ushered in the professional pharmacy class of 2026 students at their annual White Coat Ceremony on September 10, 2022.

Explore Our Program
Average Class Size
One of the lowest in U.S. pharmacy schools, by design
2021 First-Time NAPLEX (national licensing exam) Pass Rate
Compares to 83.6% national average
2022 Graduation Rate
Percent of Pharm.D. students who earn their degree in 4 years

Cross Cultural Mission Trip Participation
5 year Residency Match Rate PGY1
5 year Residency Match Rate PGY2
Becoming a Pharmacist. Choose Your Admission Path.
Preferred Admission Entry Path – 2+4 or 3+4
Gain preferred admission from high school and earn your Pharm.D. in six or seven years.
Transfer Prepharmacy Path
Transfer to Cedarville University from another accredited university to complete your pharmacy prerequisites.
Professional Pharmacy Path
Gain admission to the 4-year, PharmD program after completing your pharmacy prerequisites at another accredited university.
Hear From Our Students
As a student in Cedarville's pharmacy school in Ohio, you will experience the dynamic environment of 21st-century healthcare from a Christian perspective; be challenged to problem-solve and apply your knowledge and experience to treat the whole person; benefit from interprofessional collaboration with Cedarville's other well-regarded health programs, including nursing, allied health, and the sciences; and receive 1,740 hours of comprehensive training in hospitals, pharmacies, clinics, rural settings, and research labs — in the U.S. and overseas. You will gain pharmacy experience in every conceivable setting. Cedarville's School of Pharmacy is ready to help you achieve your educational and professional goals!
Cedarville Pharmacy In the News
Filling Up Empty Plates
Being a pharmacist is all about helping others. Inspired to help college students avoid issues like food insecurities, Cedarville University's School of Pharmacy and the Kroger Company are continuing its partnership that provides the university's Doctor of Doctor of Pharmacy and Prepharmacy students with a food pantry.
Read Article
High Praise: Cedarville's School of Pharmacy Second in Ohio
A recent U.S. News & World Report article published in the Journal of Exploratory Research in Clinical and Social Pharmacy ranked Cedarville University's School of Pharmacy as the second-best pharmacy school in Ohio, second to the Ohio State University College of Pharmacy.
Read Article
Unexpected Victory
Rachel (Sweeney) Bredeson never expected to end her Cedarville athletic career as an NCAA All-American. But through the encouragement of her cross-country teammates, her parents, and her husband, Rachel ran an outstanding finish for her Cedarville team.
Read Article
A Hometown Hero
After graduation, Dr. Katie Perry returned to her hometown to start the community's first pharmacy.