About the Master of Arts in Biblical Leadership
Why Study Biblical Leadership at Cedarville?
Cedarville's Master of Arts in Biblical Leadership (M.A.B.L.), offered in collaboration with our successful M.B.A. program, will equip you with the biblical knowledge and practical skills you need to provide effective biblical leadership.
The mission of the M.A.B.L. program at Cedarville University is to equip graduates with skills for a lifetime of biblical, servant leadership. The mission is accomplished through a biblical, theological, and ministry core curriculum along with leadership ministry specialization courses, and a researched project as a capstone experience.
This 36-credit hour program is offered in a convenient, fully online format and can be completed in as little as one calendar year. In-class delivery options are also available.
Request Info
Schedule an Appointment
What Sets Cedarville Apart?
Biblical Worldview

All courses are built on the solid foundation of Scripture.

Online and Accelerated

All courses are offered in an online format, 1- and 2-year completion options.

Affordable

Cedarville's online ministry programs are competitively priced with available financial aid.
Program Overview
M.A. in Biblical Leadership Highlights
Flexible – Can be completed online in as little as one calendar year, with full- or part-time options to meet your needs.
Strong Foundation – Core class set a foundation in theology and ministry, including:
Foundational Christian Doctrine
Introduction to Biblical Theology
Contemporary Theology in Historical Context
Discipleship
Evangelism
Specialization Courses – Specialized courses, three of which are offered in collaboration with Cedarville's successful M.B.A. program, equip you for practical leadership:
Biblical Leadership
Organizational Design and Behavior
Applied Leadership
Project Management
Ministry of Teaching and Preaching
Exposition of an Old Testament Book
Researched Leadership Project (Capstone)
What Can You Do With a Biblical Leadership Degree?
The M.A.B.L. program will help you strengthen your leadership skills as you deepen your understanding of God's Word. The goal of the program is to offer you, in an efficient format, focused theological training that will contribute to fruitful service in a variety of leadership contexts, including as an executive pastor or parachurch leadership, or any role where God leads you.
Opportunities for M.A. in Biblical Leadership Students
As part of your online master's degree in biblical leadership, you will have multiple opportunities to develop your personal ministry philosophy and leadership skills. You will:
Design a theologically driven servant leadership model for the church and community.
Articulate a strategic vision for how the church can participate in spreading the Gospel.
Demonstrate how biblical wisdom leads to ethical decision-making and service to others.
Admission, Costs and Aid, Start Dates
Costs and Financial Aid — Your decision to pursue quality, Christian graduate education represents a valuable investment in your career and professional development. To assure your degree is also affordable, Cedarville graduate programs are competitively priced and can be supplemented with a variety of financial aid.
M.A.B.L. Cost Information
Program Start Dates — Applications are accepted throughout the year, and you can enroll and begin classes in August, October, January, March, May, or July.
Related Videos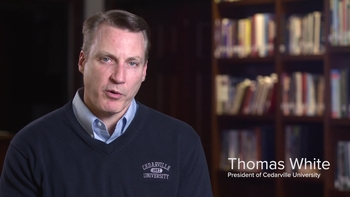 Stewarding Your Gifts With a Graduate Degree
Listen as Cedarville's president, Dr. Thomas White, discusses how our graduate programs can help you steward your God-given talents for His glory.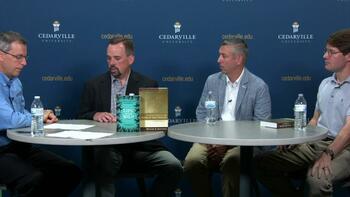 Why Choose Cedarville and Not a Seminary?
Cedarville's long history of preparing students to serve in the local church and its accelerated, cost-saving completion options make our graduate ministry programs a great choice.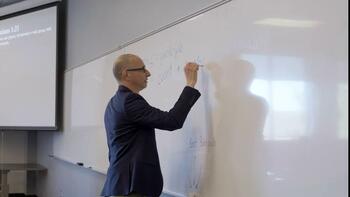 Graduate Ministry Education
Listen as recent graduates explain why they chose Cedarville University for their graduate ministry education.
Program Curriculum
You will take 36 credit hours, including core theology and ministry courses and specialized training in leadership.
Sample courses:
Applied Leadership
Organizational Design and Behavior
Program Format and Related Programs
Cedarville offers both graduate and undergraduate programs, with flexible completion options. You may also want to consider these related programs as you consider the degree or program that is a best fit for you.
From Our Students:
I greatly enjoyed my studies through the MA in Biblical Leadership. The program provided a valuable mix of theology, business, and leadership that I've already found fruitful as I pursue vocational distinction with a Gospel purpose.

Stephen Schindler, MABL '21
Learn About Career Services
Program Contacts
Dean, SBTS; Assistant Professor of New Testament and Greek
Director, Online Graduate Programs (SBTS); Assistant Professor of Biblical Theology
Program News
In a culture with ever-changing ideas and agendas, good leadership is becoming more and more important. Cedarville University seeks to equip biblically faithful leaders with its new graduate certificate in leadership.

College Consensus, a national research organization that combines the latest college rankings with thousands of student review scores, named Cedarville University No. 2 in the country among Christian universities for having the best online programs.