About the Master of Business Administration Cybersecurity Concentration offered by the Robert W. Plaster School of Business
Why Study Cybersecurity Management at Cedarville?
Security threats online are everywhere, and they continue to grow. That's why cybersecurity — the field that protects our information online — is one of the fastest-growing career fields today. The demands for highly skilled cybersecurity professionals will only continue to grow as more and more of business is done online and the threats increase.
As part of the Cedarville University fully online Master of Business Administration program, your Cybersecurity Management concentration coursework will equip you for advanced roles in the in-demand field of cybersecurity. Focusing on security laws and policies, you'll learn from case studies that will teach you to identify risk in an organization's data and to create security solutions.
As with all our M.B.A. programs, you'll study business through a biblical lens that emphasizes:
Excellence in personal standards and discernment
Kingdom influence through serving others
Stewardship of God-given talents
Leadership with a servant's heart
Cedarville also offers an online 12-hour Graduate Certificate in Cybersecurity Management, which is open to anyone with a bachelor's or master's degree.
Get answers to Frequently Asked Questions prospective graduate students have when considering an M.B.A. program.
Request Info
Schedule an Appointment
What Sets Cedarville Apart?
Biblical Worldview

All courses are built on the solid foundation of Scripture.

Online and Accelerated

All courses are offered in an online format, 1- and 2-year completion options.

Affordable

Cedarville's M.B.A. is competitively priced with available financial aid.
Program Overview
Master's in Cybersecurity Management Program Highlights
Accredited — Cedarville's M.B.A. is accredited by the Accreditation Council for Business Schools & Programs (ACBSP).
Supportive — Dedicated program adviser ensures support while you pursue your degree and maintain other commitments, and cohort-based approach builds community and network for Christian business professionals.
Flexible — Seven-week terms provide flexibility for working professionals, and part-time and full-time options are available.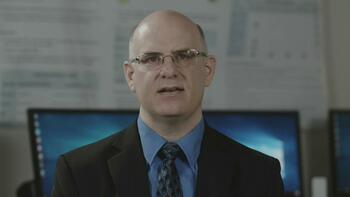 M.B.A. Business Analytics Concentration
Cedarville's M.B.A. Business Analytics concentration will equip you as a skilled professional who can analyze and interpret data to make wise, informed business decisions.
M.B.A. FAQs
Get answers to the most common questions prospective graduate students ask when considering an M.B.A. program.
What Can You Do With a Master's in Cybersecurity Management Degree?
With an M.B.A. with a cybersecurity management concentration from Cedarville University, you will be prepared to be a leader in the in-demand field of cybersecurity. You will be able to advance your career in the following professions:
Information Security Analyst
Lead Software Security Engineer
Chief Information Security Officer
Security Architect
Penetration Tester
Information Security Crime Investigator
Opportunities to Learn Outside the Classroom
Courses are designed for the online environment but include hands-on case studies, projects chosen by the student, simulation games, and personal development.
Stewarding Your Gifts With a Graduate Degree
Listen as Cedarville's president, Dr. Thomas White, discusses how our graduate programs can help you steward your God-given talents for His glory.
Admission, Costs and Aid, Start Dates
Costs and Financial Aid — Your decision to pursue quality, Christian graduate education represents a valuable investment in your career and professional development. To assure your degree is also affordable, Cedarville graduate programs are competitively priced and can be supplemented with a variety of financial aid.
M.B.A. Cost Information
Program Start Dates — Applications are accepted throughout the year, and you can enroll and begin classes in August, October, January, March, May, or July.
Program Curriculum
Building on your undergrad degree, you will take core M.B.A. courses and four core cybersecurity courses to complete the concentration. There is also a 3-credit Bible course, which is waived if you completed a Bible minor as part of your undergraduate work.
You'll build a strong business foundation through core coursework that applies in any organizational setting:
Accounting for Business Executives
Biblical and Theological Foundations for Graduate Study (may be waived with undergraduate Bible minor or approved alternative)
Capstone Course
Executive Financial Management
Information Technology for Competitive Advantage
Legal/Ethics Course Managerial Economics
Management and Leadership of Organizations
Quantitative Course
Strategic Marketing Planning
You'll take four cybersecurity courses, giving you the tools you need to succeed:
Cybersecurity Law and Policy
Enterprise Security Architecture
Foundations of Risk Management
Introduction to Cybersecurity
You can add an M.B.A. to many of Cedarville's popular majors by using one of our bachelor's-to-master's accelerated completion plans.

Program Format and Related Programs
Cedarville offers both graduate and undergraduate programs, with flexible completion options. You may also want to consider these related programs as you consider the degree or program that is a best fit for you.
From Our Students:
I want to say thank you for helping make the time at Cedarville so amazing! Everyone that works in the graduate school has been a huge help in my graduate educational journey!

Alex Hall, MBA '20
Learn About Career Services
Program Contacts
Dean, Robert W. Plaster School of Business; Professor of Economics
Assistant Dean, Associate Dean, Robert W. Plaster School of Business - MBA, Bus Admin Graduate Studies; Associate Professor of Information Technology Management
Graduate Enrollment Advisor for Business and Innovation
Contact
Program News
In a culture with ever-changing ideas and agendas, good leadership is becoming more and more important. Cedarville University seeks to equip biblically faithful leaders with its new graduate certificate in leadership.

College Consensus, a national research organization that combines the latest college rankings with thousands of student review scores, named Cedarville University No. 2 in the country among Christian universities for having the best online programs.